By Martin Wakaba – a football agent and the owner of Football Puzzles
martin@mtkenyatimes.co.ke
There is a reason as to why Bryan Robson had been nicknamed Captain Marvel despite being one of the players who were identified with the drinking culture at Man United during the 1980s. Although endless partying and drinking amongst Man United players infuriated Ferguson, he wouldn't deny the fact that Bryan Robson was world-class; Tony Adams, Alan Shearer and the late Sir Bobby Robson concur too. Robson was the first Manchester United captain to lift the FA Cup three times. It was only befitting for a player of Bryan Robson's stature to have an able replacement in Roy Keane after the Irishman was signed from Nottingham Forest. When you have the chance to wear the iconic number seven at Manchester United – just as Bryan Robson, you clearly understand that the management and the fans alike have trusted you to guard the storied history of the club. Even before Sir Alex Ferguson was poached from Aberdeen to replace Ron Atkinson at Man United, one man by the name Bryan Robson was entrusted with the jersey number seven that had previously been worn by the great George Best. Many might have interpreted it as a humbling experience, but in reality, it somewhat acted as a stepping stone for Robson to greater heights. Since then, there have been prodigious and boundless talents that have adorned the legendary jersey number seven among them the likes of David Beckham, Eric Cantona, and Cristiano Ronaldo.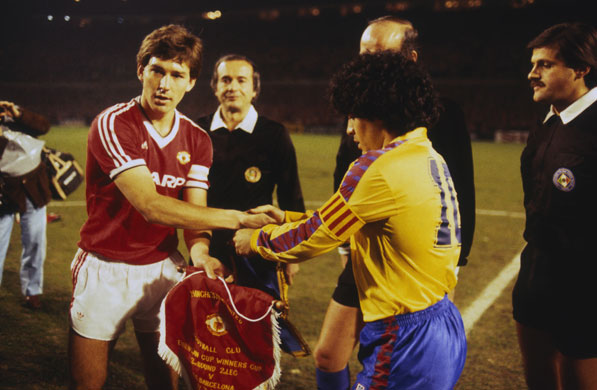 It was the news years ago that Bryan Robson was battling cancer that moved each and every Man United fan. This is a man who was thrust into limelight at Old Trafford by Ron Atkinson after he signed him from West Bromwich Albion; Bryan Robson was not only a yardstick of midfield prowess but also a hub of creativity on the field. This is a man laced with genes for greatness and an appetite for prominence as demonstrated by his type of play. In an era that saw many football lords exemplify their skills in football through savage tackling and beastly techniques that made even the most ardent wrestling fans writhe, Robson instead chose to refine and nurture his talent through a Man United inspired version of football. Thuggish tactics were not what represented Robson's approach to the game; rather, he adopted a mind-set that represented a progressive approach to football. As a player who had immense capabilities to influence football matches positively for Manchester United, the fans remain forever indebted to Bryan Robson. His talents had convinced Manchester United to fork out a record fee for Robson's services from West Bromwich Albion. Even at his younger age as compared with his peers, Robson's had an excellent range of passing across the field that far much surpassed the expectations of many. Hailed by his peers and opposing managers as an individual with great timing, passing ability, keenness, bravery and stamina, Robson had a commendable scoring record for a midfielder. Despite the injuries that limited his appearances for both the club and country, Bryan Robson ranks as the longest serving captain of Manchester United to date.
In an era that saw many football lords exemplify their skills in football through savage tackling and beastly techniques that made even the most ardent wrestling fans writhe, Robson instead chose to refine and nurture his talent through a Man United inspired version of football.
Robson not only ignited an "X Factor" to the Man United team but also combined a tremendous anticipation with accurate passing at a time when the midfielders were known more for their combative and thuggish approach that mirrored hooliganism. Robson did the right thing by not following the warlord tactics that personified the midfielders then through an approach that embodied Stone Age football. This was a time when paying a record fee would attract scrutiny and buzz but nobody made a big stink when Ron Atkinson and Man United shelled out a record fee for Bryan Robson from West Bromwich Albion. In short, the media, the opposing teams and fans all knew that Robson was worth each penny forked out! The ease with which Bryan Robson nailed a starting spot at Man United meant that the then record fee of £1.5m that Atkinson had shelled out was just a pittance; actually, it sounded more of a script from the movie the art of stealing, or rather a descriptive narrative of robbery with violence. After his managerial roles with different clubs, Robson's achievements with Manchester United saw him appointed as the club's global ambassador for promoting the commercial brand and charitable works of the club alongside Sir Bobby Charlton. He later moved on to manage the Thailand national team in 2009, and would resign in 2011. Robson would then return to his role at Manchester United.
Robson made his managerial debut with Middlesbrough whom he helped gain promotion to the Premier League after winning the Division One title. The promotion was even sweeter for the reason that Middlesbrough were playing at the Ayresome Park for the final season and were set to relocate to the Riverside Stadium. Under Robson, Middlesbrough FC was able to attract big names such as Brazilian superstar Juninho. While at Middlesbrough, Robson was ably deputised by another ex-United player, Viv Anderson. At one point, Robson even sparked genuine thoughts of participation in the European leagues after the team found itself lying fourth on the logs with few games to go, only for a catastrophic spell of injuries on key members to halt Boro's progression. Captain Marvel would even lead his side to both domestic cup finals only to lose the League Cup to Leicester City and the FA Cup to Chelsea. Although the club would later be relegated, the board kept faith in Robson and he promptly won them promotion back to the Premier League. With time, Terry Venables was brought on board as head coach to assist Robson. Captain Marvel would later leave the club by mutual consent and was replaced by Steve McClaren who was a former Manchester United assistant manager. Robson would stay in the cold for almost two years before he became Bradford City's manager. His stay was short-lived as Bradford City were relegated. Robson would then move to West Bromwich Albion, his old club, two decades after his departure as a player. Fortunes never came along at the Hawthorns and Robson would depart for Sheffield United. Since then, Bryan Robson is back at Old Trafford as Man United's Global Ambassador!