By: Mwaura Mwangi
Otolaryngology: A medical and surgical specialty concerned with the diagnosis, management, and treatment of diseases and disorders of the ear, nose, throat (ENT) and related structures of the head and neck, including the sinuses, larynx (voice box), oral cavity, and upper pharynx (mouth and throat). Subspecialty areas within otolaryngology include pediatric otolaryngology (children), otology/neurotology (ears, balance, and tinnitus), allergy, facial plastic and reconstructive surgery, head and neck, laryngology (throat), and rhinology (nose). Some otolaryngologists limit their practices to one or more of these seven areas. Otolaryngology is commonly called ENT
Pediatric otolaryngologists are medical doctors who have had
At least 4 years of medical school
One year of surgical internship
Often 1 additional year of residency training in general surgery
At least 3 to 4 additional years of residency training in otolaryngology and head and neck surgery
Pediatric otolaryngologists often complete additional training in fellowship programs at a large children's medical center
Pediatric otolaryngologists treat children from the newborn period through the teenage years. They choose to make pediatric care the core of their medical practice, and the unique nature of medical and surgical care of children is learned from advanced training and experience in practice.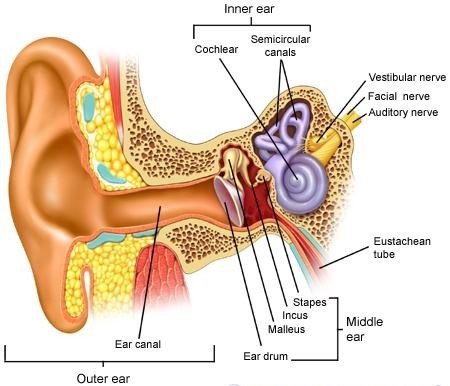 Ear, nose, and throat disorders, particularly infections, are extremely common among children.
Ear infections occur almost as often as the common cold. They can develop behind the eardrum (in the middle ear), called otitis media, or in front of the eardrum (in the outer ear canal), called otitis externa or external otitis.
Throat infections are usually not serious, but they make children uncomfortable and can lead to missed school days and multiple visits to a doctor.
Common ENT Problems
Adenoiditis and Adenoid Hypertrophy
Breathing Difficulties
Cholesteatoma and other Chronic Ear Problems
Cleft Lip / Palate
Congenital Abnormalities of the Ear
Epistaxis (nose bleeds)
Facial Nerve Injuries/Paralysis
Hearing Loss
Hoarseness
Hypernasal Speech
Laryngopharyngeal Reflux
Lump or Mass in the Neck
Nasal Deformities
Nasal Obstruction
Otitis Media (Ear Infections)
Parathyroid Diseases
Sinusitis (Sinus Infections)
Sleep Disordered Breathing
Thyroid Diseases
Tongue Tie
Tonsillitis
Traumatic Injuries to the Head and Neck
Vocal Cord Paralysis
Cancer associated with ENT
Early detection is critical to preventing fatal outcomes. Cancers of the head and neck such as laryngeal cancer can be particularly aggressive. Signs of cancer of the head and neck include changes in the skin, pain, prolonged hoarseness, and sudden loss of voice. If you suffer from any of these symptoms you should see an ENT or head and neck physician immediately.
Common Problems that Can Affect your Voice
Head and Neck Cancer
Laryngeal (Voice Box) Cancer
Pediatric Head and Neck Tumors
Pediatric Thyroid Cancer
Rhabdomyosarcoma
Second Hand Smoke and Children
Secondhand Smoke
Skin Cancer
Smokeless Tobacco